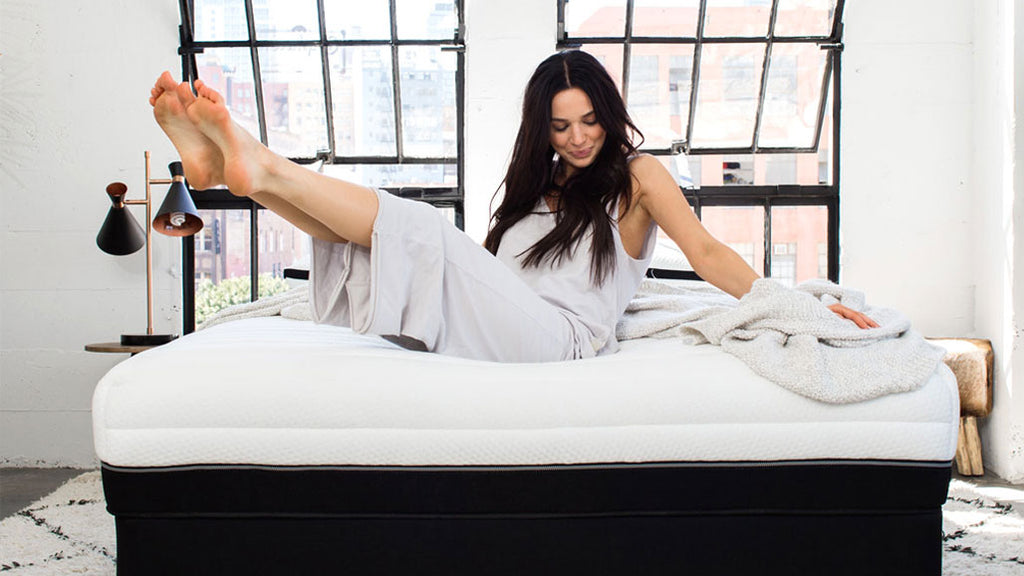 10 BENEFITS OF A MEMORY FOAM MATTRESS
Posted in Sleep Experience on
10 Benefits of a Memory Foam Mattress
Everyone deserves a good night's sleep after a long day at work. But the cold fact is that a majority do not get the deep sleep which revitalizes body and mind for taking on the daily grind. And, most of the time you're literally sleeping on the problem.
To get you the sleep you need, we at Luxi Sleep have researched and designed the world's best luxury memory foam mattress. After analyzing the exact requirements of clients, our team has put in the dedicated time to give you one of the most technically advanced mattresses available today.
Top 10 Benefits
Adjustable: Luxi Sleep memory foam mattress can easily be adjusted to various degrees of firmness ranging from 'soft' to 'medium' to 'firm'. If you are tired and looking forward to a long, peaceful nap, you can adjust to 'soft'. But if you want to just stretch your legs and work on the bed or watch TV, adjust to 'very firm', and you can sit up comfortably.
Long Lasting: Our mattresses are strong and sturdy, capable of serving you many years without losing comfort.
Reduce Dust Mite: A normal mattress houses millions of dust mites. But our memory foam mattresses will help you avoid having to deal with such allergens. Since the inside of the mattress is made of a material that does not provide space for the dust mites to survive, you can be sure of reducing its presence considerably.
Easy Maintenance: The mattress is very easy to maintain. Just do some basic cleaning and vacuuming and you are done. Since the Luxi Sleep mattress does not get dirty as easily as the regular ones, you don't need to spend time or effort trying to maintain it regularly.
Motion Absorption: The Luxi mattress is designed to absorb any motion on the bed. So the next time you move around the mattress, your partner won't feel a thing ensuring more sleep and fewer irritations.
Fewer Allergens: We only use hypoallergenic materials in our foam mattresses. As such, you can confidently sleep without the fear of catching any allergic reactions.
Sleeping Position: Being able to sleep on the mattress just the way you want can be tough in the usual circumstance. But our Luxi mattress is designed to mold according to your sleeping style so that you can sleep as comfortably as you can, in any position you desire.
Temperature Adjustment: The material and unique foam architecture of our SBT technology used in making the memory foam mattress removes heat by airflow, giving you a cooler sleeping experience. With any mattress, the heat from your body is absorbed and get's trapped. If there is no way to remove the heat, there is no way to keep your mattress cool.
Reduced Pain: The Luxi Sleep memory foam mattress distribute your weight in a way that no part of the body is under excessive pressure. You won't feel any discomfort or pain when waking up after a long night.
Less Sagging: Not comfortable with the saggy spring-based bed you are sleeping on? No worries. Our memory foam mattresses do not sag, ensuring that you are comfortably positioned at all times.
About LUXI Sleep
At Luxi Sleep, we focus on delivering you the best memory foam mattress in America. We use cutting-edge technology, materials and design techniques to ensure that our mattress gives you the most comfortable sleep you can ever hope for. Plus, with our 1000 Night Sleep Pledge assurance, you can take a thousand nights to decide whether the mattress is perfect for you.