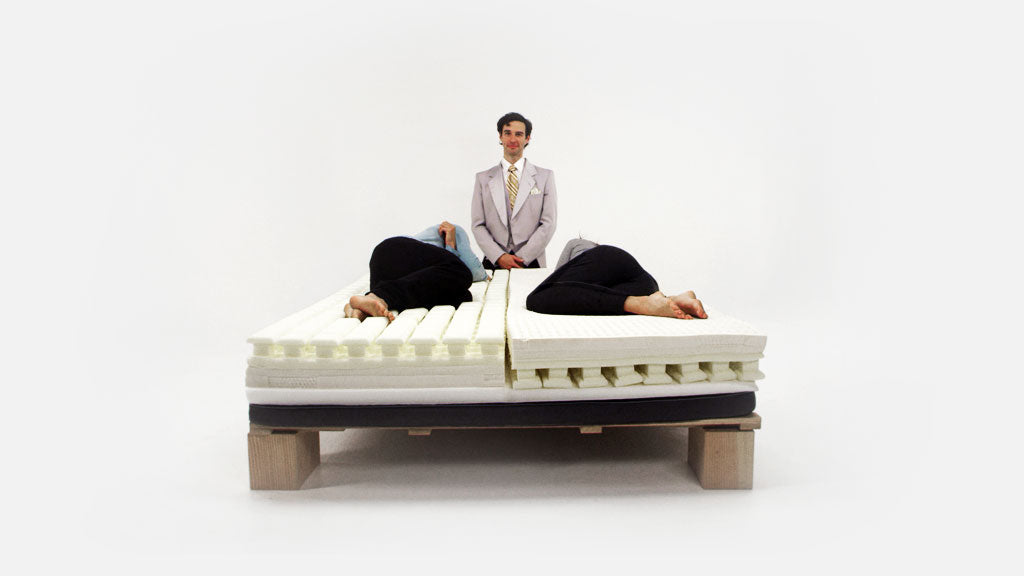 WHAT IS A SPLIT MATTRESS & WHY SHOULD YOU BUY ONE?
Posted in Sleep Experience on
If you're in the market for a new mattress, you might be feeling overwhelmed by your many options. After all, there's at least one perfect bed out there for everyone, which means you have a shot at getting a great night's sleep as soon as you choose the right mattress. But first, you have to learn what sets a split mattress apart from all the others. For example, what is a split mattress, and why should you consider buying one? To start, you should know that a split mattress features two sides that work independently of each other.
Here's what else you need to know before you determine if a split mattress is a right choice for you.
How Split Mattresses Work
A traditional split mattress is made up of two separate mattresses. This means if you and your significant other have different comfort preferences, you can manage this by buying two different mattresses with different levels of firmness or softness. And since the mattress is made from two mattresses and work independently from one side to the other, it's a great choice if you are considering an adjustable base. You can easily raise or lower your side without affecting the other side of the bed.
You can typically find three sizes of split mattresses. They include dual queen, dual king, and dual California king. This simply means the two mattresses together add up to one of these sizes. For example, two twin XL mattresses can make up a king-size mattress, since together they are the same length and width as a king bed.
The Benefits Of Buying A Split Mattress
1. Great Choice For Couples
There's a big need for split mattresses among couples who are looking for a new mattress bed. That's because buyers have realized not everyone has the same preferences when it comes to sleeping arrangements. This can make buying a traditional mattress difficult when you share a bed with someone else. When there are two different mattresses on the same bed, you can both get the comfort level you desire, without having to compromise at all. For example, if you like a softer surface to sleep on, you can make sure your mattress has lots of cushioning, while your partner can stick to a firmer mattress.
2. Works On An Adjustable Base To Accomidate Your Favorite Sleep Position
Split mattresses are a perfect compliment for an adjustable base so you can adjust your side of the mattress to accommodate your favorite sleep position and more. Whether you want to sit up and read in bed or elevate your legs a little to improve circulation, adjustable base allows for this. Some adjustable beds even have a massage feature or allow you to adjust them using a wireless remote control or an iPhone app.
3. Easy to Maneuver In Tight Spaces
As a bonus, split mattresses happen to be easy to move. If your house has narrow hallways and doorways, you can move each mattress one at a time through the house, rather than trying to squeeze a regular king or queen mattress through the doors. Clearly, there are some good reasons to consider buying a split mattress if you're looking for a new bed. 
The Luxi Signature 3-in-1 Split Mattress Provides Comfort For All Sleep Styles
Now that you know the basics of the split mattress, you can move on to understanding what sets a split Luxi mattress apart from others. Our Luxi 3-in-1 Signature mattresses are technically one mattress in a single cover, but the foam layers inside the mattress are split in half so you can adjust each side independently, giving each of you just the right amount of support. Whether you want a soft, medium or firm feel, you can get what you need when you adjust your side to your liking, and your partner can do the same. You get all this comfort and convenience without having to buy two different mattresses. And since it's all tucked into one cover, you get a seamless transition from one side to the other, meaning you never feel the split.
If you plan to buy a mattress online, you'll appreciate the flexibility of the Luxi 3-in-1. Normally, you have to try out several mattresses before you find the right one, which means you have to go to a store and lay on numerous mattresses. You don't have that option when you're buying online, which is why it's great that this mattress is fully adjustable. You can change the comfort level without even leaving your home. Simply unzip the mattress and flip the layers to get the perfect feel.
This system means you can keep using your mattress for several years, even if your preferences change as you age. If you currently like a soft mattress but find you prefer a hard surface in five years, just unzip it and adjust the layers to get it just the way you want it. Your partner can do the same with his or her side of the bed. This can save you money and time since you won't need to buy a new mattress for years as long as you can easily change the surface from home.
If you're looking for a new mattress, learn more about Luxi mattresses today. Sleep Sherpa rated our product the #1 Performance Mattress, and Consumer Reports has named our brand in the top ten mattress picks. Plus, your satisfaction is guaranteed, so you have nothing to lose by trying our 3-in-1 split mattress. In fact, we want this to be the last mattress you ever own, which is why we have a replacement part program where we send you additional layers, a new cover or other parts as needed at affordable prices. Imagine never buying a new mattress again because it's so quick, easy and inexpensive to modify your existing mattress.
If these benefits appeal to you, feel free to check out all our foam mattress options online and contact us with any questions!
About Luxisleep.com
Long-time makers of premium handcrafted mattresses, Luxisleep.com is a family-owned company from Southern California that's on a mission to create healthier people and a happier planet by disrupting the mattress industry with their new mattress technology and design.
Our best selling adjustable mattress, the Luxi 3-n-1 has received rave reviews since its debut. We're confident that if you are looking for a split mattress, you've found the perfect solution in the Luxi 3-n-1.