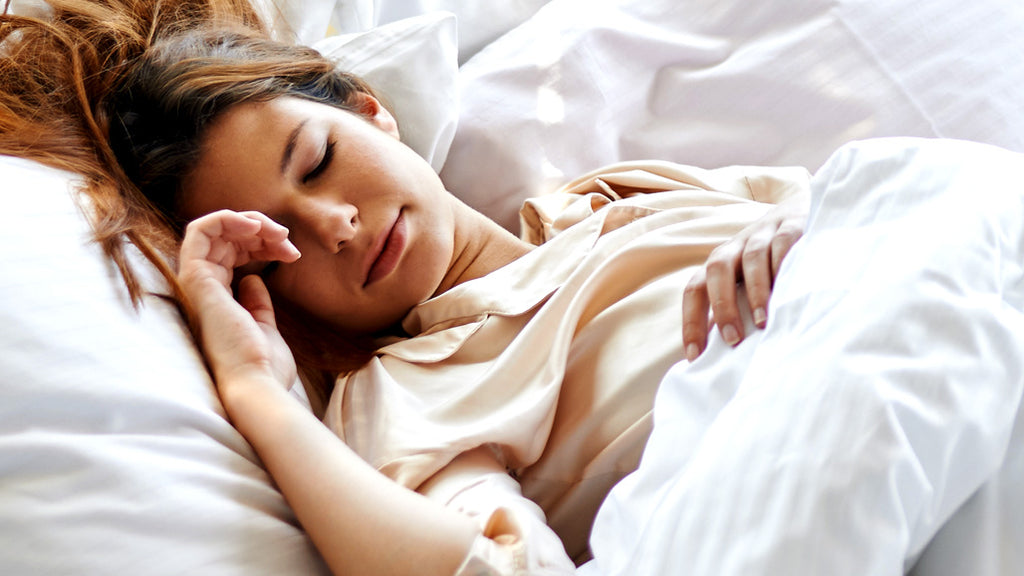 HOW TO FIND A MATTRESS THAT OPTIMIZES SLEEP AND MINIMIZES PAIN?
Posted in Sleep Experience on
Shopping for a mattress can be overwhelming. We get that. With so many materials and firmness levels to choose from, where do you begin? Not to mention, how do you find a mattress that is best for your body type and sleeping style?
Here's the first thing to remember: how comfortable you feel while rolling around on a mattress for a couple minutes is not a good indication of whether you should purchase. What feels good temporarily may not provide the support you need in the long term.
When shopping for a mattress that optimizes sleep and minimizes pain here are three steps to finding the perfect mattress for you:
Step one: Out with the old, in with the new

Did you know the average lifespan of a mattress is 7-10 years? If you get your recommended eight hours of sleep every night, that equates to nearly 30,000 hours spent in bed over a 10-year period. No wonder your mattress is struggling to keep it together.
Over time, mattresses succumb to the natural wear and tear of supporting your body weight each and every night. It's not uncommon for a sag to develop toward the middle of the bed due to worn coils or foams. When a mattress begins to dip in the middle, it tends to 'hammock' your body, creating a pinch-point in the lower-lumbar spine. If you are looking for a mattress that optimizes sleep and minimizes pain, it might be time to say goodbye to that 15-year-old mattress that has been passed down in your family for years. At this point, it's no secret it's bad for your back.
In fact, here are some other tell-tale signs it may be time to get a new mattress:
You are waking up with aches and pains
You can't get comfortable in bed
You are experiencing a sinking sensation when you lay down
You can feel even the slightest movement of your sleeping partner
According to licensed chiropractor, Dr. Dominique of Alpine Chiropractic in North Carolina, 20-30% of his patients with issues of chronic pain could relate the issue back to a poor mattress. Although a mattress is a big investment, it is integral for your overall health and wellness.
You're probably re-evaluating the fact you have been sleeping on a mattress passed down in the family for 15-years right about now…
Step two: Understand what you should be looking for
There is a lot of fancy product jargon thrown around in the mattress industry. When shopping for a mattress, look for these qualities when it comes to pain management:
Pressure relief
When shopping for a mattress, you'll want a mattress that relieves pressure in the hips, thighs and shoulders. A mattress that puts pressure on your joints can result in aches and pains.
Spine alignment
To reduce pain, it's vital to have a supportive mattress that keeps your spine in proper alignment. This means your spine should be straight from your tailbone to the base of your neck.
Without a mattress that keeps your spine in a neutral position, you will experience a host of issues including low back pain, neck pain, muscle tightness and uneven hips.
Support
Additionally, you'll want to find something that evenly supports your body weight. Support in a mattress refers to the weight the foundation can hold to support your body properly, and it has a big effect on pain management. When a mattress loses support, which happens overtime, it will begin to sag. This can throw your spine out of alignment.
Responsiveness
All responsiveness means is how well your mattress adjusts or responds to different positions when you sleep. Responsiveness is directly correlated to how quickly you can get comfortable on your mattress. You'll want to find a mattress that responds to your body quickly.
Step three: Choose the best mattress type for you
Now that you've decided it's time for a new mattress and you know what you are looking for, you'll have to decide what type of mattress is best for your body type and sleeping needs. We are all different sleepers with different needs and preferences. Different mattresses suit different types of sleepers.
For Side Sleepers
The overwhelming majority (almost 70%) of the population are side sleepers. Meaning most mattresses out there are designed for you.
If you are a side sleeper, you'll want to find a mattress that relieves pressure in the hips, shoulders and knees. Memory foam tends to be a good option for side sleepers given it's reactive contouring properties that cradles these areas that are prone to high pressure.
In terms of firmness, medium-soft to soft mattresses tend to perform best with side sleepers.
For Back Sleepers
According to medical professionals, sleeping on your back is the best position. Not only because this position is optimal for pain management, but also because sleeping on your back allows your spine and neck to rest in the most natural position. This is also the position that is best for evenly distributing body weight and keeping your back supported.
Back sleepers need a mattress that offers support and contour in equal measure, to keep your spine in a neutral position. The support is what holds up your spine and neck, while the contour is what allows your bum and other curvy parts to rest peacefully.
Medium-firm mattresses tend to be the best for back sleepers. A soft, sink-on-in mattress will put your body in an arch position, and won't provide you with enough support. But a mattress that tilts too far in the other direction can feel like a concrete slab to a back sleeper—this puts too much pressure on your back and shoulders, so you wake up with aches. If you aim for a medium-firm mattress, your lower back will thank you, and you'll be sure to hit your deep-sleep target.
For Stomach Sleepers
Stomach sleepers are among the most rare. Unfortunately, this is the worst sleeping position, according to the Mayo Clinic. That's because sleeping on your stomach puts strain on your back and neck.
However, if you can't shake the habit of sleeping on your stomach, look for a mattress with support and spine alignment in mind.
Stomach sleepers will want to find a mattress that is soft enough on the surface to avoid pressure in the chest and hips, but firm enough to support their spine alignment. Therefore, medium-firm mattresses tend to be best for stomach sleepers.
Why the Luxi mattress is great for pain management
Due to its contouring abilities and Shape-Matching technology, the Luxi Adjustable mattress is a great choice when it comes to finding a mattress the optimizes sleep and minimizes pain. With this mattress, each sleeper is able to customize their bed to their sleeping position and needs.
You can adjust this mattress to your preferred firmness, making it a great choice for sleepers of all positions. Side sleepers should adjust to soft to medium firmness to avoid pain in the hips and shoulders. Back sleepers should choose a medium to firm surface in order to support their spine alignment. Finally, stomach sleepers should choose a medium-firm surface to support the spine and prevent pressure in the chest.
If you know your body well, the Luxi One will suit you just as well. Made with the same Shape-Matching technology as the Luxi Adjustable, this mattress perfects the level of "sink" you experience based on your body weight, sleep position and pressure profile.
Need more information on finding the best mattress? Visit Mattress Advisor to see our review of the Luxi One mattress or for guidance on finding your best sleep.